Thanks for the support with my crummy PT appt and the mean guy.  Or as Slacker Runner perfectly nicknamed him, "asshat".  I love it!
Saturday three of my wonderful friends surprised me with a visit to help celebrate my birthday.  It was fabulous to see them since two of them live out of town and all of them have little ones.  Trying to find a weekend when we are all available is quite the experience in planning.  It was great to see them!
We went to see 50 Shades of Grey (Ron would NOT be proud) – completely different from what I expected and better than I thought it would be.  Then onto a local establishment called The Kalamazoo Beer Exchange.  It's a neat concept where they have a bunch of different beers with screens set up as the stock exchange.  The prices fluctuate based on the "market".  We were there during the afternoon (the market wasn't open yet) and they have some tasty grub… unless you are gluten-free/low FODMAP/can't eat many things.  I guess I should have figured this given the whole beer theme but thankfully, we had a very kind server who helped me out.  I left her a big fat tip, since I was a bit annoying!  (I did eat some homemade potato chips there which helped to inspire parts of this post.)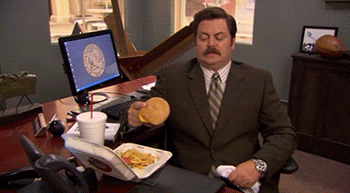 I also learned a very important lesson this week… Don't put off miles you can accomplish today just because you could run tomorrow – or whatever (I'm writing this with some serious meds in my system).  Just get miles in when you can – I'm talking to myself here.  Now, I know it seems like there is always something wrong with me but it's simply because I'm accident prone.  Or fragile.  Or something.  Look at this pic of me from kindergarten – do I look hearty to you?  Nope, and I'm still not.
Anyway, Friday morning I was getting coffee from McDonald's and this guy rear-ended me a bit.  There was no damage to my car and really it didn't feel like much.  I hurried onto work, where I had to carry my super heavy purse around and then scooched a couch a few feet.  At lunch, I carried my super heavy purse back to my apt.  All good.  Then, 45 mins later, I bent over to get aforementioned purse and my back seized.  I am not sure if I've ever felt this before but I knew it wasn't good.  At the same time, I figured I tweaked it and I was over-reacting.
It hurt.  A lot.  I went back to the office (after unloading many of the offending heavy articles from the purse) and realized the pain didn't really go away.  It got worse as the afternoon wore on until I went home around 3:30 since I needed some meds.  Cue laying on the couch all of Friday and Sunday.  If my friends hadn't bent over backwards to make Saturday work, I would have laid on the couch then too.  As it was, I stuffed my face with a few pills and cursed a lot in my mind.  I figured out a decent med combination (my apologies to my stomach and liver) and used some BioFreeze.  Small baby stretches seem to help momentarily, so that is good?  I also got the name of my friend's chiropractor, who he swears by, if things don't get better.  Currently, I'm getting my deep squats in though, since this is the only way I can reach the ground.  That's a plus!
I have no idea if any of those morning activities impacted my current predicament or if it was simply how I bent over but man, I feel so bad for people who have chronic back problems!  Did you know how many movements require the use of your back?!  Yesterday, I utilized some peak drugged-up time to fix an oatmeal bake and get some energy bites ready for the week (more on why this is important tomorrow).  I was stirring the energy bite mixture and it made my back hurt – I wasn't expecting this!  I am sincerely hopeful this is a fluke injury and I'll be able to write an "all better" post soon.  That being said, I have so much sympathy for those who have constant struggles with their backs.
Anyway – no running miles for the week.  I had a couple of walking miles in there but that's it.  It's a good reminder for me to stop trying to fit all of my training/fitness into a few days, which isn't all that good for my body anyway.  I need to keep it more consistent so I'm not a) saving everything for the end of the week and b) not sitting on my arse for days.
***Edited:  I typically write my posts the night before.  Today, my back is a bit better but still I'm walking around like some kind of weird robot, forget bending over and pain meds are my BFFs.  I made a chiro appt for Wednesday.  I feel like a fraud/big baby though… what if there is nothing wrong?!  I don't want to look like an idiot.  However, I can't relax, am in pain or move very well either so I'm going with possibly looking like an idiot.  We'll see.